Snow Force (C64)
A special (and updated) Christmas version of Soul Force.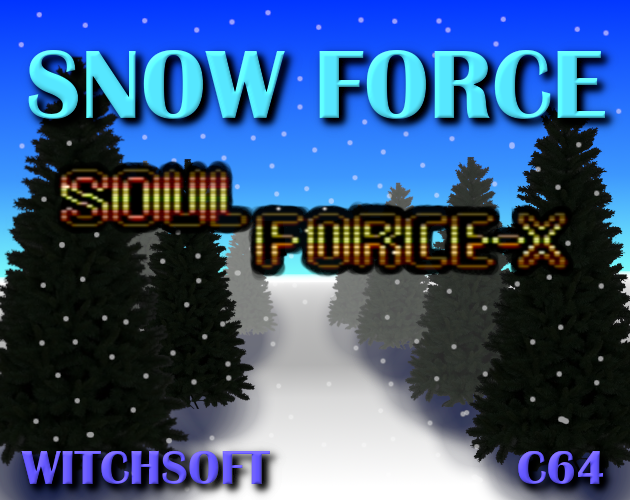 It's Christmas time in the Soultron star system, its people living in hope for a never ending peaceful existence of joy and good will.

Yet some had looked out into the skies, wondering what lay beyond, and what dangers could descend upon their peaceful worlds. In secret they developed project Snow Force, an advanced space fighter designed to defend the Soultron system from anyone trying to ruin Christmas.
And from the darkness of deep space comes a terrible bio-mechanical fleet swarming into the Soultron star system, monstrous creations descending upon the peaceful planets, stealing all their Christmas presents. They are known as the Grinchkins, a most miserable bunch of misers...
We have chosen you to launch and pilot the new Snow Force space fighter against this terrifying threat and liberate our star system. Learn the Grinchkin's plans and put a stop to them for good. The fate of our star system lies in our hands. You are our last and only hope... Oh, and don't forget to rescue our presents too!
Key Features of Snow Force:
18 adrenaline filled horizontal shoot'em up levels, each with Christmas themed enemies
Seven in-game bonus items to collect
Collect presents for bonus points
Four individually upgradable weapon systems
General ship upgrades
Lots of boss fights
Four difficulty settings
Password and flexible save game system
Supports C64GS joysticks with 2nd button used for cycling weapons
Fully PAL & NTSC compatible
NB: Snow force also includes Soul Force X, and updated version of Soul Force.
Credits:
Programming, graphics, and sound by Sarah Jane Avory.
Sprite portraits and additional sprites by Paolo Rathjen.
(C) 2021 Witchsoft.
PLEASE NOTE:
SALES TAX or VAT will be added to your order at checkout.
Purchase
In order to download this game you must purchase it at or above the minimum price of $3.99 USD. You will get access to the following files:
Snow Force v1.0.crt (EasyFlash)
545 kB
Snow Force v1.0 (GS64).crt
513 kB
Snow Force v1.0.cjm
96 bytes
Snow Force Manual.pdf
2 MB
Soul Force X Manual.pdf
1 MB