Neutron (C64)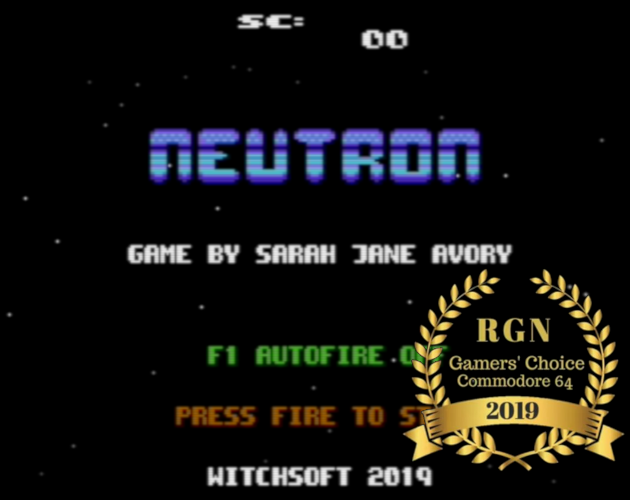 Neutron is a fast-paced vertical shoot-em-up for the Commodore 64 (PAL).

This version was created for RGCD's C64 16KB Cartridge GameDev Compo 2019.

All programming, graphics, and sound by Sarah Jane Avory.
(C) 2019 Witchsoft.
NB: Although the game has been coded for PAL, it will run quite happily on an NTSC machine, just at a faster speed.
History:

Back in the 80s, after loving playing the arcade game Star Force, I coded my own version on the Commodore 64, one I named Neutron. The game was finished, but never released as Orpheus, the company I was working for at the time, closed down before Neutron could be released…
I still had all the files, but time passed by, and when I moved house many years later, seeing no reason keeping all my old computers, I (rather foolishly looking back now) binned everything, including all my old disks.
Fast forward to the present, and after suffering a bit of burnout while writing lots of novels (I'm also a self-published author), I decided to have a bit of fun and code some C64 games. After coming across the 16Kb cartridge competition, I decided I'd enter that, and thought Neutron would be ideal.
And so I now present Neutron, a re-born version of the game I coded a long time ago. Only this time, with the benefit of lots of coding experience, this game is much improved, in every way.
Features:
9 challenging stages of increasing difficulty.
Player weapon upgrades.
3 different background styles.
Over 18 types of enemies.
Mid-stage mini-bosses.
End of stage boss.
Controls:
Joystick in port 2, or Keyboard:
S - Up.

X - Down.

< - Left.

> - Right.

SPACE - Fire!
Purchase
In order to download this game you must purchase it at or above the minimum price of $2.99 USD. You will get access to the following files:
Neutron v1.1 (PAL).crt
16 kB
neutron v1.1 (PAL).d64
170 kB