Zeta Wing 2 (C64)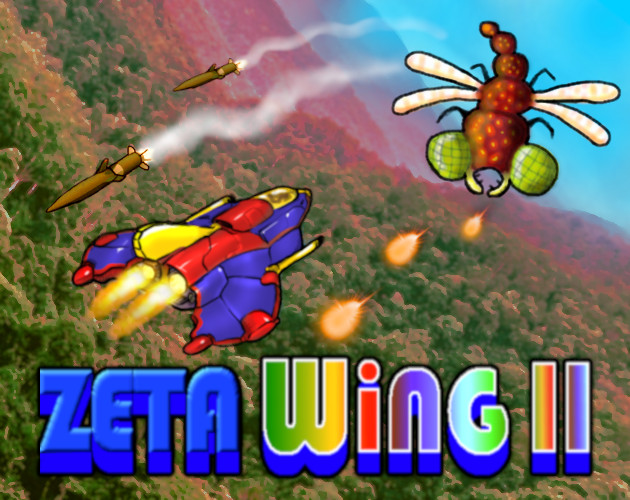 Zeta Wing 2 is a fun vertical shoot-em-up for the Commodore 64, sequel to Zeta Wing, itself winner of both the RGN Gamers' Choice Award 2020 for the Commodore 64, and Indie Retro News Budget Game Of The Year 2020.
Story:
The strange mutant creatures have returned! Only this time they are tougher than ever!
Earth once again needs a hero to stop them... one like you!
So strap into your fighter and blast off to end this infestation one and for all!
Features:
7 challenging stages, each with their own graphic style.
3 difficulty settings: Easy, Normal, Hard.
Lots of parallax scrolling.
12 player weapon upgrades.
7 end of stage bosses.
PAL and NTSC compatible.
Simultaneous music and sound effects.
Supports C64GS joysticks with 2nd button.
Save/load settings and high score table to cartridge (.crt version) or disk; settings will auto-load on startup.
Controls:
Joystick in port 2, or Keyboard:
S - Up.
X - Down.
< - Left.
> - Right.
SPACE - Fire!
Left Arrow - Smart Bomb.
P - Pause.
Pause key can be configured in the Options screen to be one of the following:
[P]
[Spacebar]
[Run Stop]
[F7]
Smart Bomb key can be configured in the Options screen to be one of the following:
[Left Arrow]
[Spacebar]
[Run Stop]
[F7]
NB: if Smart Bomb key is configured as [Spacebar], keyboard Fire changes to [A] key.
NB: if the 2nd joystick fire button reader is causing problems, use [F3] key to disable it.
Helpful tips:

Destroy entire enemy attack waves to drop a Star symbol.
Collect 9 Stars to power up your weapons.
A bar above the lives display shows your power-up progress.
Losing a life degrades your weapons by one level, but doesn't reset the power-up bar.
Watch out for the Smart Bomb pickup! Use it when needed. Can also be set to trigger automatically. An icon next to the power-up bar shows if you have a smart bomb or not.
Shoot the "Z" and "W" symbols for 500 extra points.
Shoot the "B" symbols for 200 extra points.

Extra life awarded every 50,000 points scored.
Credits:
All programming, graphics, and sound by Sarah Jane Avory.
(C) 2023 Witchsoft.

PLEASE NOTE:

SALES TAX or VAT will be added to your order at checkout.
Purchase
In order to download this game you must purchase it at or above the minimum price of $4.99 USD. You will get access to the following files:
zetawing2 v1.03.d64
170 kB
ZetaWing2 v1.02.crt (EasyFlash)
200 kB
zetawing2 v1.02.d64
170 kB
ZetaWing2 v1_01.crt (EasyFlash)
200 kB
ZetaWing2 v1_0.crt (EasyFlash)
200 kB
zetawing2 v1_0.d64
170 kB